Discovring Imperial – Multipurpose PowerPoint Template

On this post, we are discovring one of the best PowerPoint Templates in 2018, Imperial – Multipurpose PowerPoint Template from egotype having more than 931 purchases on Enevato Market !
1. Review

Title : Imperial – Multipurpose PowerPoint Template
Type : presentation-templates/powerpoint-templates/business
Designer : egotype
Publishing date : 2019-01-17T21:47:03+11:00 and updated at 2019-06-02T19:37:54+10:00
Price : 8 $
Sales : 931
Review & Rating : 5
Download this template
2. Description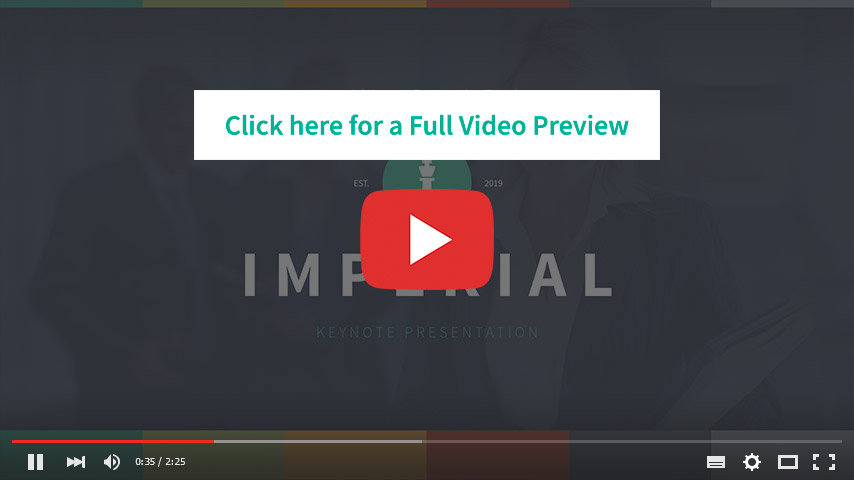 Company Profile PowerPoint Presentation Template – A Presentation Builder & Portfolio Template
Building your presentation has never been so easy. With Company Profile PowerPoint Presentation Template now you can create a powerful and professional deck with a striking design in just a few minutes instead of hours (or even days).
Imperial PowerPoint Presentation Template is a multipurpose powerpoint template suitable for accounting, management, corporate business report and personal use. We focused on the real use, each slide is proven useful in real-world presentations.
Supercharged with tons of elements, layouts, maps, infographics, charts editable, vector icons, and many other great features. This presentation template is perfectly suitable for all kind of subjects such as: Website Projects, Company Profile, Investor Presentation, App Devices Launch, Marketing Template, Investments Template, eCommerce Template, eLearning Template, Education Template, Social Media Template, Startup Template and many others.
What do you will get:
Powerpoint Files in 16:9 HD Layout | 4:3 Aspect Ratio
Powerpoint Files in US Letter and DIN A4 for Print out
Powerpoint Latest Versions
Light and Dark Theme Version
100 Different Colors Variations
Over 550+ Unique Slides
+200.000 Slides in Total
Device Mock ups Included)
Animated Slide Version
Non-Animated Slide Version
16:9 HD and 4:3 Screen Size Layout
US Letter and DIN A4 Print Size Layout
Quick Guide (PDF)
Divided in categories such as
About Us
Meet our Team / Staff
Our Studio Services
Multiple Portfolio
Gallery /Galleries
Project in Devices
Device Mockups Included
Maps
Tables
Statistics Charts
Diagrams
Character Slides
Our Clients
Quotes
Gradients Style
Contact Us
And Others
Features
Data charts
Full editable and vector icon sets
All graphic resizable and editable
World Maps
Map infographics
Handcrafted infographic created in Keynote
Pixel-perfect illustrations
Easy Editable chart
Section Break Slides
Areas of Application
Business Plan
Business Proposal
Startups
Company Profile
Creative Agency
Consulting
Sales
Pitch Deck
Annual Report
Sales Report
Marketing Report
Management
Only free Fonts used
Only Free Fonts Used:
Source Sans – Link for Download
(Install the Fonts first before you open the File)
Support
For any kind of help regarding this file, please contact me through my profile page and I´ll be glad to offer support! For any other kind of Support, feel free to write us an Email. Don´t be evil!
If you have any question please feel free to contact me via Profile Page and if you like this presentation, please don't forget to rate it.
Imperial Powerpoint Presentation is a high-quality powerpoint presentation template, it's already got all the thoughtfully crafted design slides, with great professional slides, creative layouts, infographics, photo galleries, subtle effects, numerous color choices, and multiple visual options, all made so you can easily customize and put these features to use in your next big presentation.
Imperial Powerpoint Template is suitable for entrepreneurs, investors, corporate, teachers, sales presentation, education, included slides for meeting presentation, powerpoint, powerpoint chart templates, powerpoint diagram, powerpoint layout templates, best, best powerpoint, business, business plan presentation, business powerpoint, business powerpoint templates, clean, company, creative, design of powerpoint, it presentation, cool powerpoint templates, PowerPoint Maps, powerpoint presentation ppt, motagua, powerpoint presentations, powerpoint slides, powerpoint template, powerpoint theme, powerpoint themes, ppt presentation, presentation, presentation template, professional, cool presentation template.
Have fun and Impress your audience!
Changelog of Imperial Powerpoint Presentation
See what we´ve updated:
January 2019 – Imperial Version 1
April 2019 – Update Imperial – 10 new Color Schemes
May 2019 – Update Imperial – 190+ new Slides